This week has been a whirlwind of activity for the team at MyHeritage. Each day has been a new press release about the products and changes happening within the company.
Photo Discoveries:
Friday was the launch of a brand new feature - exclusive to MyHeritage - Photo Discoveries™. A Photo Discovery provides users with a set of photographs of ancestors and relatives, originating in family trees contributed by others. Users can add the photographs to the matching profiles in their family tree, in a single click.
Photo Discoveries is an innovative feature which transforms family trees by automatically adding matching historical photos. A Photo Discovery provides users with a set of photographs of ancestors and relatives they may have never seen before, originating in family trees contributed by others. Users can add the photographs to the matching profiles in their family tree, in a single click.
Layered on top of MyHeritage's highly accurate Smart Matching™ technology, which locates matching profiles in other family trees, and Instant Discoveries™, which enable users to add entire branches to their family tree in just a few clicks, Photo Discoveries identifies the profiles that have no photographs in the user's family tree and provides photographs of these individuals from matching profiles on other family trees.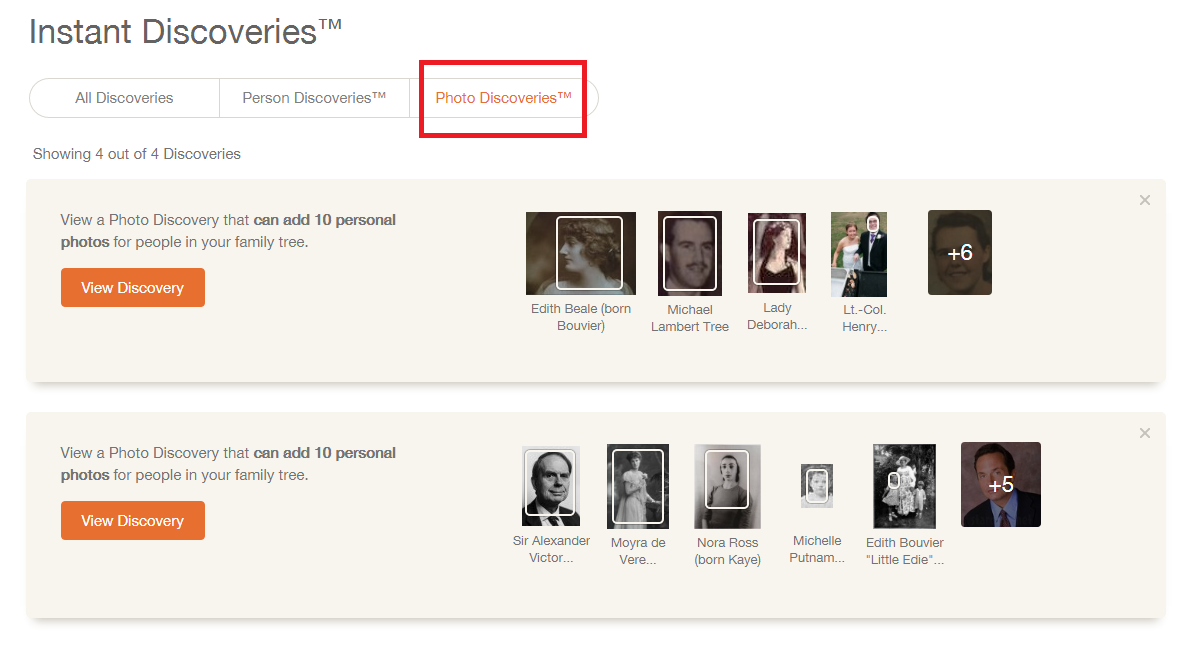 Users can add up to ten photographs per Photo Discovery, reject specific ones they do not wish to receive, and apply Photo Discoveries as many times as they would like. The photographs are then copied over to the associated profiles, preserving all useful metadata such as people tags, dates and place names.
"At MyHeritage we're constantly brainstorming innovative new ways to make our industry-leading matching technologies even better," said MyHeritage Founder and CEO Gilad Japhet. "Receiving a never-seen-before photograph of an ancestor is a delightful emotional experience, and one that we would like our users to enjoy as often as possible. Photo Discoveries deliver this and fulfill the promise of collaborative genealogy in a slick and gratifying one-click experience."

Viewing Photo Discoveries in thumbnail form is free. Applying Photo Discoveries to one's family tree requires a PremiumPlus or Complete subscription on MyHeritage.
Appointment of new CSO
They announced on Thursday the appointment of Dr. Yaniv Erlich as its Chief Science Officer. Dr. Erlich, a DNA scientist of world renown, will lead scientific development and strategy for
MyHeritage DNA
, the company's newly established DNA service for family history and ethnicity, and ensure that its products are built on a solid scientific foundation.
Dr. Erlich, nicknamed the Genome Hacker by Nature journal, brings to MyHeritage unparalleled experience in the field of genomics as Assistant Professor of Computer Science and Computational Biology at Columbia University and as a Core Member at the New York Genome Center. He is also the former principal investigator and a Whitehead Fellow at MIT's Whitehead Institute, founder of DNA.LAND and the principal investigator of the Erlich DNA lab.
Dr. Erlich completed his Ph.D. at the Watson School of Biological Sciences at Cold Spring Harbor Laboratory in 2010, and has won numerous awards as a cutting-edge scientist, including the Burroughs Wellcome Career Award (2013), the Harold M. Weintraub Award (2010) and the IEEE/ACM-CS High Performance Computing Award (2008). Dr. Erlich has a B.Sc. degree cum laude in Neuroscience from Tel Aviv University.
Dr. Erlich's research interests are diverse and cover many facets of computational human genetics, including population studies, DNA privacy, DNA storage and genetic research in crowd-sourced family trees.
"We're delighted to welcome Yaniv to our management team. Yaniv's expertise in computational genetics and its synergy with family history will provide the solid scientific foundation that is fundamental for setting apart our fast-growing DNA service from the others" said MyHeritage Founder and CEO Gilad Japhet. "We are committed to providing our users with the most accurate DNA results, and helping them understand more about themselves. Yaniv will lead a dedicated team of world-class scientists to help us achieve this."
"I'm excited to join the talented team at MyHeritage and put my scientific experience to use by the millions of users on the MyHeritage platform," said Dr. Erlich. "I've collaborated with MyHeritage since 2012 and have known them to be forward thinkers about building tools and platforms that enable massive scale scientific studies. I look forward to opening new horizons in consumer genetics in my new role, and further empowering our users with useful and creative tools that harness the latest scientific discoveries".
MyHeritage DNA was launched in November 2016, offering simple DNA home-testing kits for determining users' ethnic origins and discovering new relatives. The service is offered in more than 190 countries worldwide, in 42 languages.
Discoveries Pages
The Discoveries pages provide a unified experience for all matches, organizing them into two main pages: Matches by People and Matches by Source. Now you can look at all matches that were found for a particular individual in your family tree, or all matches found in a particular collection of historical records or matching family tree. Whatever you choose to use, the new pages combine Smart Matches (matches with trees) and Record Matches (matches with records) into the same unified and consistent interface.
MyHeritage also will now display the new information that each match provides, and matches are arranged by the value that they add to your family tree, so that those matches that add the most value are listed first.
This saves you time and allows you to focus on the most valuable matches. You can easily save all new and improved information to your family tree.
MyHeritage is known throughout the industry for it's matching technologies, and they have just gotten even better with a great new user interface. The new pages are easier to use, more intuitive and much faster than the previous layout.