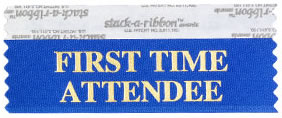 One of my Genealogical New Year's Resolutions was to attend a national conference.
Some of my genealogy, and non-genealogy, friends asked why.
Why would you want to spend the money and do that? Plus how are you going to pull that off with kids being a stay at home mom and stuff?
Good questions and I had to think long and hard on these, but I knew in the end the work, begging, pleading, and sanity sacrifices would be worth it.
I am still new to the genealogy scene in a lot of aspects. With just three years of genealogy focused research under my belt, it is understandable why I still feel like the new kid in the community. While I am not new to research, and some types of research/report style writing, genealogy is a whole new kettle of fish. Since the beginning I have read and been told that to get the feel for this community I should step out of the house and into the conference setting at least a couple of times.
Until now I have only attended a couple small one day seminars and Virtual Conferences. The atmosphere at each was obviously different (one in person and one on line) but there were common themes. Right off I noticed the community atmosphere. This was followed closely by a strong desire for learning by the participants. It was amazing to me how people interacted with one another, gave feedback, said hi like they were long lost best friends, helped with research problems, and the overwhelming friendliness of everyone left me breathless. I can just imagine what that will be like multiplied by 100!
To say that I am on pins and needles with excitement is putting it mildly. There are so many people I want to meet in person because I have only ever "meet" them online. Chatting through email and message systems only goes so far. Sometimes it is that personal touch of an in person meeting that can cement friendships and grow professional relationships.
Listening to the live and pre-recorded lectures from a few of this years conferences has really whet my appetite for the whole experience. It made me very jealous of those who were there in person. They had the opportunity to participate and interact with the presenters as well as other conference goers. It is always different in person, I know that, and I am sure the crowds are going to be enormous but I am willing to put up with the crush to be in the front row this time!
Also, I want to peruse all the goodies in the exhibit hall. When else will I be able to see all that stuff I have read about live and in person? Knowing my luck I am going to go over my budget, but I bet it will be wort every penny I spend. Good thing I am driving; books are heavy and expensive to ship.
As a self-confessed education geek, I can't wait for the presentations. This will be my main focus: to be a sponge and soak up as much information as I possibly can. I wonder what my overload point will be. That, in my opinion, is the ultimate reason why I want to go to this conference. I want to stuff my little head with information until I can't take anymore!
Maybe I am way off base, and have no idea what I am really in for. Why do you think someone should try and get to at least one national conference a year? Do you have any advice for this first time attendee?